+++++++++++++++++++++++++++++++++++++++++
Venceremos Unidos! Education for Liberation!
Peter S. López, Jr. aka~Peta
Email: peter.lopez51@yahoo.com
http://twitter.com/Peta_de_Aztlan
HumanE-Liberation-Party~http://help-matrix.ning.com/
----- Forwarded Message ----
From: Amy Goodman <appeal@democracynow.org>
To: peter.lopez51@yahoo.com
Sent: Fri, December 11, 2009 11:01:38 AM
Subject: Join Democracy Now! in Defending Free Speech and Independent Media
Democracy Now! | Year-End Appeal, 2009
Democracy Now! is a daily TV/radio news program, hosted by Amy Goodman and Juan Gonzalez, airing on over 800 stations, pioneering the largest community media collaboration in the U.S. If you cannot view this message, try this version:
http://www.democracynow.org/get_involved/donate/holiday_appeal_e
Make a sound investment in Democracy Now!
Five days a week, Democracy Now! delivers the hard-hitting, in-depth reporting that you've come to expect. From the ongoing wars in Afghanistan and Iraq to the coup in Honduras, Democracy Now! has been your go-to destination for information on critical issues that are ignored by corporate media.
You rely on Democracy Now! to tell you the truth about what's happening in the world, from global warming to global warring. Today, I ask you to click here to support independent media, and make this vital coverage possible.
Unlike the corporate-funded media, Democracy Now! brings you reports on the economic meltdown from the ground up, examining its impacts on everyday people, not just investors and CEOs.
Donate here:
http://www.democracynow.org/donate/ye09-e
Your support today allows us to feature thoughtful analysis from voices like Naomi Klein, who told you on Democracy Now! how Washington's big-bank bailout was an "unprecedented transfer of public wealth into private hands," and Democracy Now! correspondent Jeremy Scahill's explosive exposés of military contractors.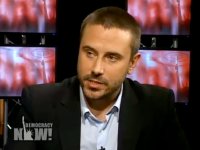 DN!
correspondent Jeremy Scahill
You turn to Democracy Now! to deepen your understanding of what is happening in the world. Click here to donate now, and ensure that these stories continue to reach those who need to hear them the most.
Listeners and viewers tell us that Democracy Now!'s reporting on the healthcare crisis has been vital in illuminating information that was stripped from the debate in Washington, and untouched by the corporate media, like the single-payer plan. Former Cigna executive Wendell Potter appeared on Democracy Now! to explain how insurance companies "dump the sick to satisfy investors."
Democracy Now! also brought you President Obama's longtime physician, Dr. David Scheiner, who told us he had just been dis-invited from an ABC News healthcare forum because of his support for single-payer.
As you know, Democracy Now! is fundamentally different from commercial media. We don't take money from corporate advertisers. We rely on donations from people like you to maintain our editorial independence. As we cover the critical issues of the day, from war to healthcare, from global warming to the economic meltdown, you know our coverage is not paid for by the weapons manufacturers, the health insurance industry, big pharma or the oil, gas and coal companies.
Click here to support Democracy Now! and help break the silence by demanding the full, uncompromised stories you depend on.
As a deepening crisis engulfs mainstream media, journalists are being laid off by the thousands. Venerable newspapers are being abruptly shuttered. Democracy Now!, as the only daily, global, non-profit news hour broadcast on radio, television and the internet, is uniquely positioned to take a leadership role in conversations about the new frontier of independent media.
Your donation to Democracy Now! is an investment in a vibrant, sustainable, independent media.
Today, six giant corporations own and control the vast majority of our media. Media consolidation undermines a basic tenet of democracy - easy access to diverse sources of information. Independent media is more critical than ever for the future of our democracy.
Your past support has helped Democracy Now! achieve two major landmarks this year: We are now available on more than 800 public television and radio stations, expanding a powerful network of independent broadcasters across the globe. And, Democracy Now! has just moved to our new permanent home - transforming an old printing press into the most eco-friendly television, radio, and internet digital broadcast facility in the country.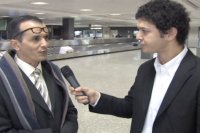 Democracy Now!'s
Sharif Abdel Kouddous on the ground
Make a donation today, and help Democracy Now! use this new facility to strengthen the investigative journalism that you care about and translate our programming into Spanish and other languages.
Teachers across the globe use Democracy Now! as part of their curricula. Click here right now, and help us create an interactive website where they share their teaching plans and experiences with other teachers and students.
Your donation today is an investment in a classroom for the next generation of independent journalists. Your gift allows students to visit Democracy Now! and interview newsmakers after they appear on our show. We will offer opportunities for students to learn journalism, and for seasoned journalists to develop new skills as part of our multi-platform news hour.
By clicking here to support Democracy Now! today, you become part of the independent media movement, building a strong future for true investigative journalism.
Your financial support, story ideas, and activism sustain our work. Thank you for making Democracy Now! what it is today, and what it will be tomorrow.

Amy Goodman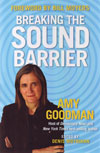 PS - By donating $75 or more today, you can receive a signed copy of my new book, Breaking the Sound Barrier, with a foreword by Bill Moyers, or other great thank-you gifts!
PPS - On a personal note, thank you for the outpouring of support and condolences on the recent passing of my mother, Dorothy Bock Goodman. Democracy Now! meant so much to her, and your warm wishes and generosity are a source of warmth, comfort, and hope.
Click here to forward this to a friend.